There is a new script standard regarding patient safety. Check out this blog for everything you need to know about the new script standard, why this standard was needed, eClinicalWorks information regarding the change and how to run the report, and a video demonstrating the validation report within eBO reports to fix necessary items to comply with the new standard.

1. Everything You Need to Know About the Script Standard

Larry King, a manager of clinical informatics at Surescripts published a really great article explaining the most important things to know regarding the Script Standard. Below, we will summarize the most important parts.
SCRIPT 2017071 offers functionalities including FollowUp Provider which allows the prescribing doctor to clearly identify the appropriate provider to contact moving forward

The new standard will drive the modernization of e-prescribing and medication reconciliation with access to patient prescription history data

This means improved patient safety and prescription accuracy

It will create an environment where doctors, patients, and pharmacists can work together

It will improve workflow efficiencies for healthcare providers and pharmacies

The version will accommodate e-prescribing of compounded prescriptions (expanding to 1,000 characters in SCRIPT 2017071)

Continued adoption of CancelRx and RxChange by connecting the provider and pharmacy electronically

A patient's allergies can be sent using SNOMED codes

Codified Notes (a brief list of standardized notes) is being added

Prescribers may now indicate "Do Not Fill" for prescriptions whether it is a cover prescription or just to be kept on file until the patient requests it

"Prohibit Refill Requests" and Follow-Up Prescriber Information will also be available

Additional fields are being added to accommodate multiple prescriber identifiers

And a lot more (check out Larry's article for a full explanation of new or updated features)
Larry suggests being aware of any updates and industry guidelines that relate to the transition to SCRIPT 2017071; even though most of the work takes place behind the scenes, he says it's important to get familiar with what's available and to stay informed of major changes to make the transition easier for you and your staff overall.

2. Script Standard Validation Report

Check out the images below for a walkthrough of the Script Standard Validation Report: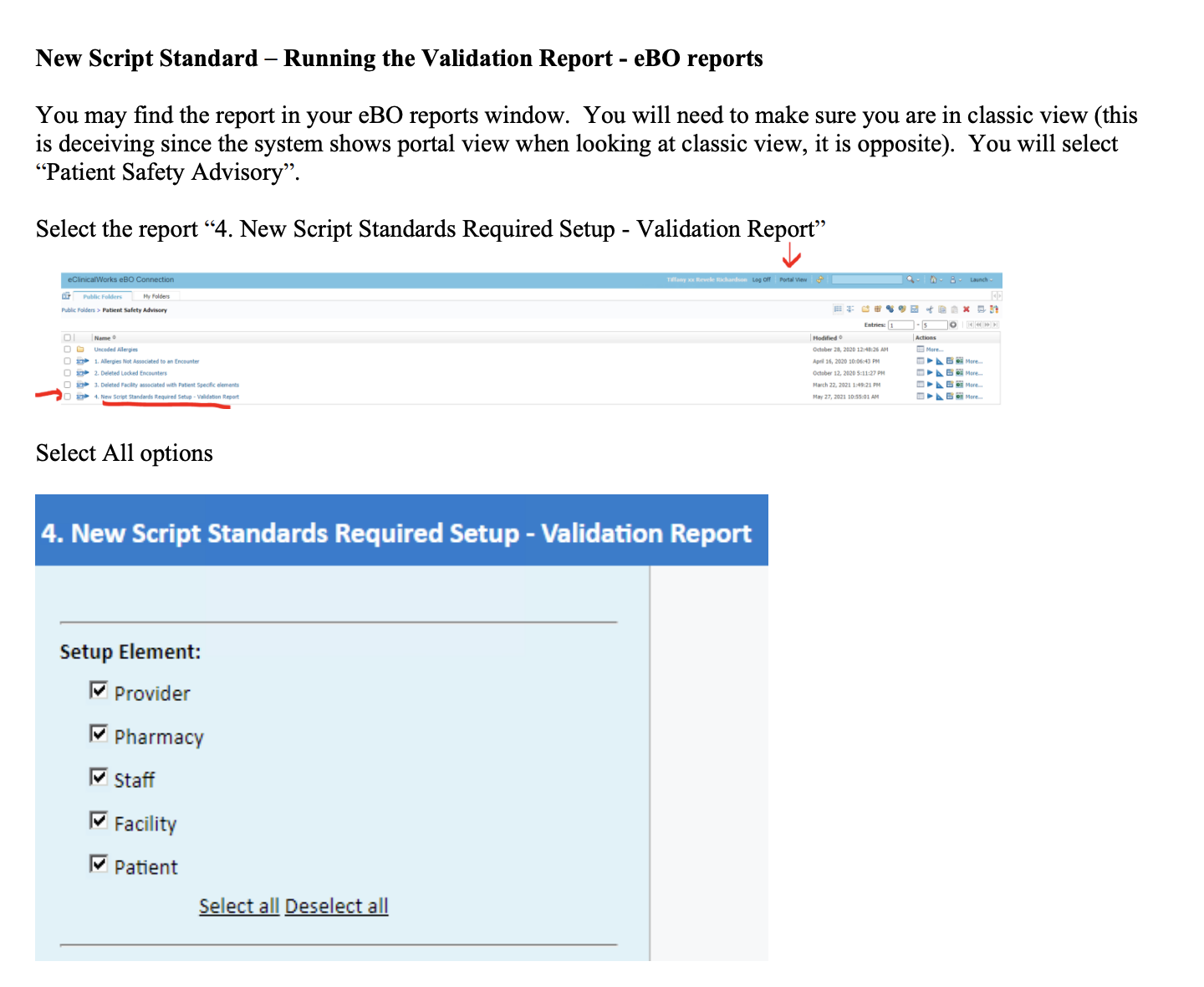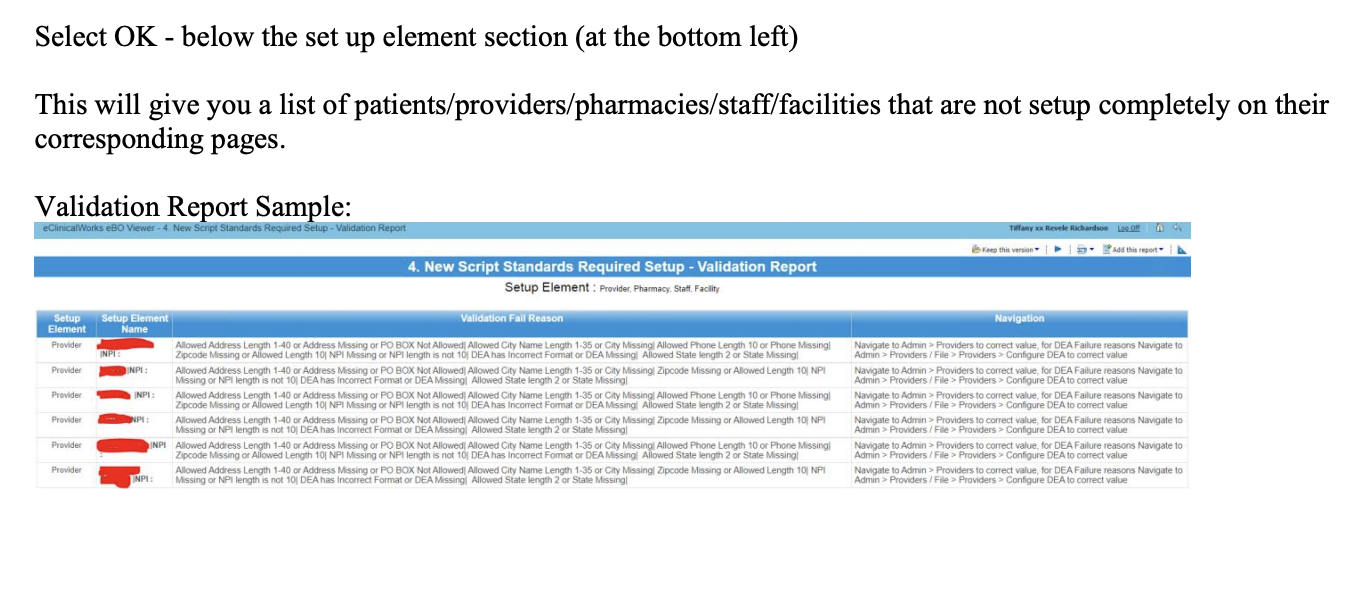 3. eClinicalWorks Information and How-To Run the Report

eClinicalWorks published a very helpful document explaining the new Script Standard (and you can find that here). eClinicalWorks explains how Electronic Prescribing (eRx) underwent a nationwide upgrade to meet the new e-prescribing standard, and will be available for customers later this year.
To summarize the document published by eClinicalWorks, the Centers for Medicare and Medicaid Services (CMS) adopted the SCRIPT 2017071 standard for e-prescribing under Medicare Part D, replacing the old SCRIPT 10.6 version (CMS - 4182 - F). Further updates regarding that replacement can be found on eClinicalWorks' website.
It's good to note that there should not be interruption in e-prescribing before the go-live date (September 1, 2021), and to ensure no interruption in e-prescribing after September 1, 2021, it will be necessary to upgrade to the eClinicalWorks version that supports SCRIPT 2017071.
The Surescripts deadline for retiring SCRIPT 10.6 was originally December 1, 2020, but was postponed to September 1, 2021 due to the nationwide COVID-19 pandemic. Because of the pandemic, the new deadline for retiring the older e-prescribing message is now September 1, 2021. After September 1, 2021, prescribers must be using eClinicalWorks SCRIPT 2017071 - compliant version. Any messages using the SCRIPT 10.6 version after September 1, 2021 will no longer be translated to SCRIPT 2017071 by Surescripts. It will not be possible to e-prescribe from outdated eClinicalWorks versions starting on September 1, 2021.
Please reach out to your eClinicalWorks Strategic Account Manager for any questions and prepare to have the new version in place BEFORE September 1, 2021.

4. Video Demonstration

Check out this amazing video demonstration from one of Revele's very own eClinicalWorks Certified Implementation Specialists that explains the validation report within eBO reports to fix necessary items to comply with the new standard. If you find yourself wanting to chat with someone from Revele's team after watching the video, please don't hesitate to book a meeting here.
---
INTEGRATED SOLUTIONS
Conquer the New Age of RCM
Learn how Revele's EMR and RCM solutions are helping
physician groups and health systems reduce costs and increase revenue.
If your EHR system harmonizes well with your work processes, it can make things easier on your staff and ultimately on patients as well. Choosing an EHR software can be difficult for medical practices. When making the decision, a practice should consider if the EHR will help with collecting patient information before the patient enters the waiting room. An EHR is more than a software to hold patient data. A top EHR solution will help your practice achieve more accurate medical billing, improve patient engagement and communication, and share patient information with other providers.

Optimizing care requires up-to-date, accurate patient information, and efficient medical billing also depends on complete and accurate data. When your EHR system is a unified platform, claims can be submitted more quickly, be less likely to be rejected because of mistakes, and patient billing can be done expediently.