It's been one full week since the eClinicalWorks National Conference where we joined a crowd of 5,000 in Nashville to network and learn with other eCW users. If you were able to make it this year, I'm sure you left feeling as excited as I am for what's ahead with interoperability, telehealth, and patient engagement. If you weren't able to attend this year's conference, don't worry. Here are a few of the major announcements made this year and what you can look forward to with eClinicalWorks.
Prizma - The health information search engine.
Prizma is integrated directly into eClinicalWorks and provides access for providers to view a longitudinal history of critical information providers need to make informed health decisions. Prizma coordinates information from interoperability networks, such as CommonWell and Carequality, as well as payers such as CMS Blue Button® 2.0 API.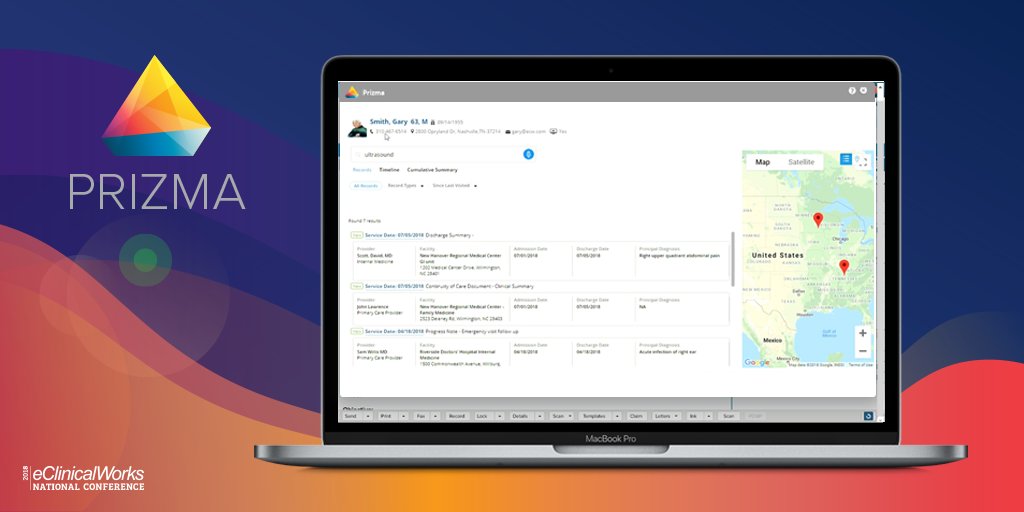 "Prizma is the solution that very effectively searches, organizes, and presents relevant patient data, revolutionizing the availability of information and transforming how it is displayed," said Girish Navani, CEO and co-founder of eClinicalWorks.
Prizma includes sophisticated search capabilities and displays patient data in a format in which physicians can make informed decisions. I'm looking forward to learning more about Prizma over the coming months and hearing from everyday users of eClinicalWorks on how this type of technology will affect their practice and patients.
CMS Blue Button 2.0 API
Blue Button 2.0 is an API that contains four years of Medicare Part A, B, and D data for 53 million Medicare beneficiaries. Blue Button 2.0 data reveals information about a beneficiary's health like:
type of Medicare coverage
drug prescriptions
primary care treatment and cost
Beneficiaries have full control over their data and how it is used and by whom with identity and authorization controlled by MyMedicare.gov. This partnership with CMS will assist in informed health decisions and was one of the exciting announcements made this year at the conference.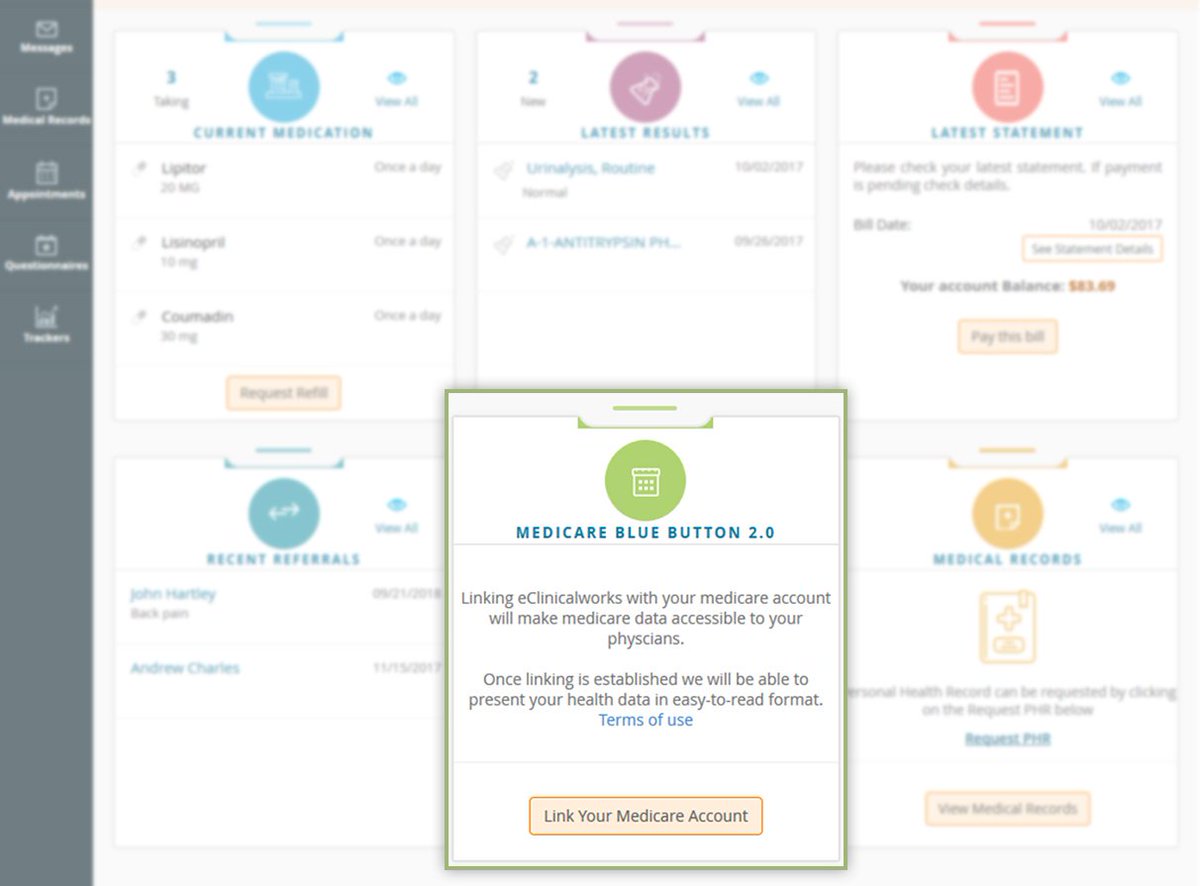 Patients Over Paperwork
A big theme this year was how providers could avoid burnout from paperwork or other administrative tasks by better use of technology (and the updates that make it possible). I attended a couple of sessions on Scribe and realized just how easy it is to use in the mobile app.
One of the slides during the conference demonstrated the time-saving benefits of using Scribe. With Scribe, you can save up to 1 hour and 15 minutes of documentation daily. This figure is based on 25 patients per day so the amount of time you might save is going to depend on your patient population.
Another way to reduce administrative burden is through the use of the eClinicalWorks Kiosk. As you can see from the image below, practices are using Kiosk to have patients complete questionnaires before they see the provider. Here, it resulted in saving 10 minutes per patient.
Medicare Annual Wellness visits are a huge advantage to patients and any practice's revenue cycle. However, a study published in the Journal of Health Affairs found that less than one-fifth of all eligible Medicare patients receive a wellness visit and more than half of primary care practices offer no annual wellness visits to their Medicare beneficiaries at all. As you can see below, kiosk makes it easier for practices to get started with Annual Wellness Visits.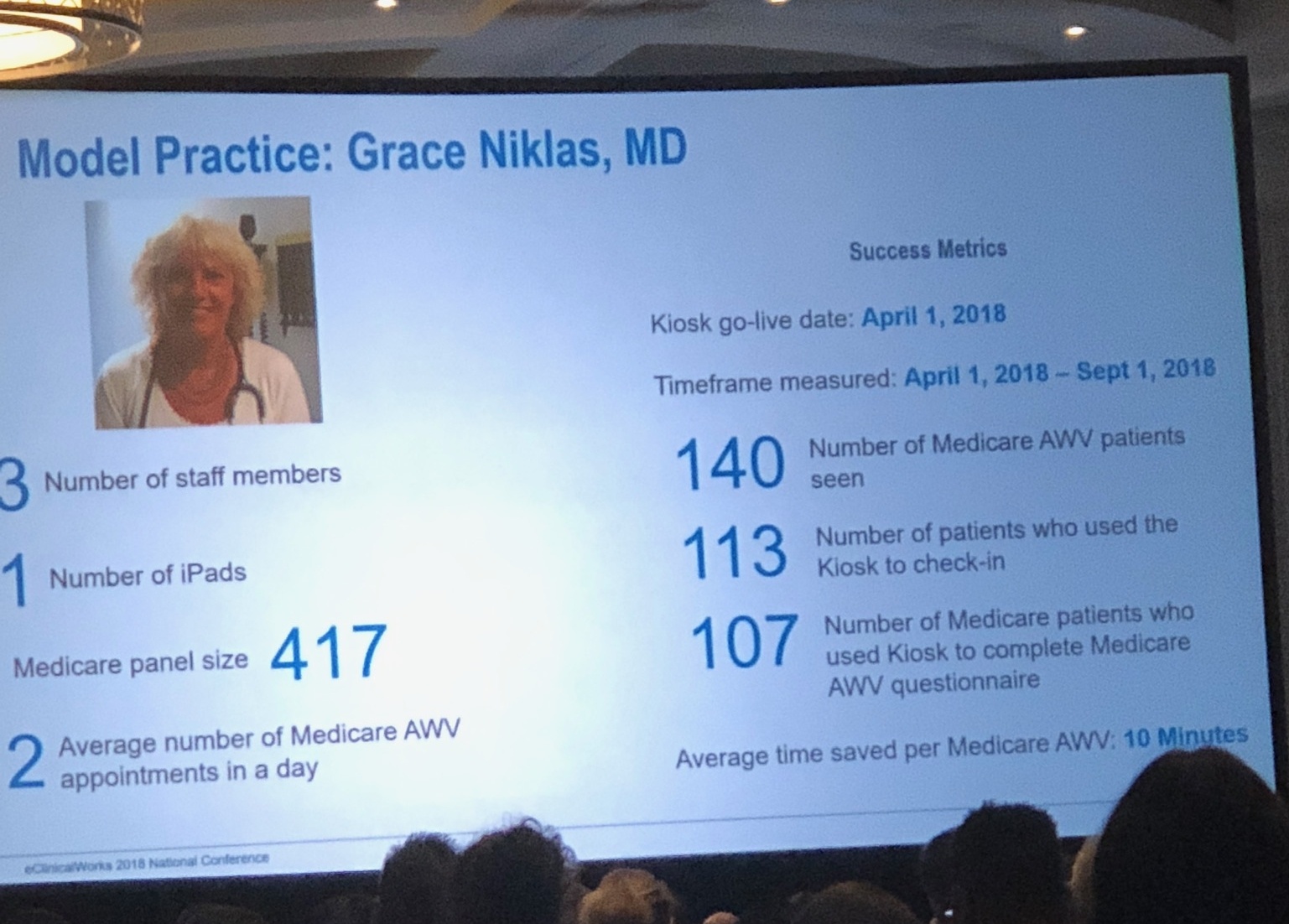 Other highlights from this year's conference include:
Hello2healow is one-click calling with patients giving providers the ability to contact patients with a single click from within the EMR.
Interdisciplinary consultations by using Join the Network.
eClinicalWorks clinical decision support system provides physicians with additional safeguards against opioid abuse.
Partnership with Care UK: The U.K.'s largest private provider of healthcare will integrate WellWatch™ personal health data into eClinicalWorks.
ECLINICALWORKS SOLUTIONS
eClinicalWorks Training and Consulting
Missing out on new eCW features? We can help.