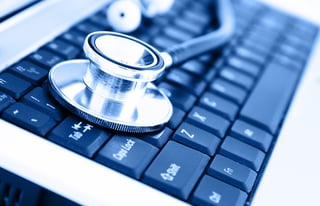 The healthcare industry is facing growing pains, especially where technology is concerned. We recently caught up with Lee Farabaugh, Chief Innovation Officer and EVP of Professional Services for PointClear Solutions to get her advice on what providers should be talking to their software vendors about.
"In a perfect world, providers wouldn't have to be business people or technology wizards," says Farabaugh. "And they will tell you they don't want to be either." But at this point, providers practically need to have a computer science degree to navigate some systems out there.
Lee is adamant that providers need to be vocal about the aspects of information technology that don't meet their needs. "Don't suffer in silence. Speak out, because better systems and better design is possible," she says.
Here's more of what Lee had to say when we caught up with her about healthcare software and industry challenges.

Tell us about PointClear Solutions

PointClear is a design and development firm focusing almost exclusively in the healthcare space. We research, design, build and manage applications for real people.
What I mean by that is, our work is grounded in an understanding of the end user. We know who they are, how they use technology, what they're trying to accomplish, and the environment in which they're working; and we create solutions that are tailor-made for them. The result is software people actually enjoy using, because it makes sense to them and helps them get things done. And on our best days, it even makes them smile.
What services do you offer?

We offer services in four main areas: strategy, research and design, idea to implementation, and application management. Sometimes our clients need help articulating the problem they want to solve, and our strategy experts are great at that. Sometimes they want to redesign an application because they know it can perform better. Our research and design experts know how to evaluate applications and pinpoint the areas where users may struggle, and they know how to apply innovative design thinking approaches to making products better.

Sometimes our clients have an idea and they want us to help them take it from a kernel of thought all the way to a working application. We have a tried-and-true agile process that incorporates user experience, business analysis, architecture, and development; and we use it to turn those dreams into reality.

Finally, some of our clients don't want us to leave once the application has been deployed. They may want to continue adding features or just ensure their application is managed and maintained. We have a team that can do just that, - at a cost that makes sense for the long term.

What sets PointClear apart from other healthcare software developers?

It's definitely our focus on user experience. People are people, and they tend to follow certain patterns of thought and action across time and industry. While this is true, doctors, nurses and other healthcare providers are actually a special breed. There are nuances to caring for other people that mean understanding and thoughtful craftsmanship are necessary when designing for these users.

In addition, patients may want to make changes to their lifestyles to improve their health, but human beings often act in irrational and unpredictable ways. Conventional thinking about behavior change is typically ineffective. Our team has been in this space a long time, and we understand how to design for clinical users as well as for behavior change.

Healthcare isn't like other industries, and you have to understand that from a fundamental place; otherwise, you will miss the mark in designing for providers and patients alike.

From where you sit, what are the biggest challenges facing healthcare providers today?


The culture of healthcare. It manifests itself in things like lack of standards. The promise of electronic health data and interchange between providers just hasn't come to fruition yet. Data is still in siloes, and the culture of medicine keeps it that way because corporations don't want to lose market share and providers don't want to be marginalized. There's a subtle culture change underway, but it will likely take a generation or more, plus the natural evolution of information sharing, to truly change it.

Privacy and security are also big issues. So much time and expense has to be put in place to protect data from the bad guys, and it makes it hard for the good guys to get it. It inhibits the user experience of applications. No one wants to log into system after system. Some of it is necessary, and some of it needs fresh thinking. The necessary part is just a necessary evil.

What advice do you find yourself repeating over and over again to clients?


It's the same advice I give my husband when he sets off for Home Depot to tackle some home improvement project: it always takes longer and costs more than you think it will. Sure, there are people who will try to sell you a low-cost option to turn your idea into a working application. But anything that is worth doing is worth doing right. And cheap can turn into expensive very fast.

Take the time to understand your target audience and their needs. Don't build features and functionality; influence outcomes. And it's perfectly fine to build something in phases. Iterative design and development is the most effective use of your time and money. Build a minimally-viable product, test it in the marketplace, and take what you learn with you as you create the next version.

What types of questions do you ask clients when developing programs for them?

What is the real problem you're trying to solve?
Who's going to use your product?
Have you talked to any of your users yet?
And my favorite: Why? Why? Why?

What questions do you wish more prospective clients would ask you?

How can you have so much experience and knowledge of the healthcare space, and still present fresh ideas for my project?

What healthcare industry news are you following closely today? Why is it important?


Anything that appears on The Healthcare Blog, because it's always insightful. I'm following news on behavioral economics, because if you don't understand how people behave, you're going to have a hard time influencing them. I'm also really interested in telemedicine because I think it represents a real shift in the way medicine is delivered.

What innovations in the industry are you most excited about right now?


I'm interested in innovations that deliver real value. Anyone can have ideas, but I want to know about what is really impacting the marketplace, saving people time and money, or improving outcomes. Specifically, I think the most innovative things today are happening around mobile/mHealth, the internet of things, and big data. And of course, the human element is the most interesting part of all of it.

Lee Farabaugh is a senior healthcare technology design and innovation expert, with over a decade of HIT experience concentrated in user experience (UX). She has worked on software design and development projects in a variety of healthcare domains, from public health and life sciences to consumer- and provider-facing healthcare web and mobile applications.
Connect with PointClear Solutions on Twitter, LinkedIn, Facebook and Google+.