As states begin to open up and continue to demonstrate caution in response to the outbreak of the novel coronavirus, it's hard to know what the future holds for healthcare. The outbreak of COVID-19 has been a major cause of concern for healthcare organizations across the nation and is having a massive impact on revenues and the revenue cycle management industry.
While the government and payers have put in place programs to help alleviate revenue cycle obstacles presented by COVID-19, physician practices, hospital systems, and medical centers continue to face financial challenges stemming from COVID-19. As a result, many, including 266 hospitals, are furloughing staff to remain financially stable.
As authorized by the Coronavirus Aid, Relief, and Economic Security Act, HHS has now provided $350 million to health centers and systems for COVID-19 pandemic response. However, providers are hesitant to fully trust that federal funding passed by Congress, the Coronavirus Aid, Relief and Economic Security (CARES) Act, will help their organizations because of the lasting effects the pandemic will have on their bottom line. In a recent survey, Xtelligent Healthcare Media found that nearly 20 percent of respondents neither agree nor disagree that the funds would help their organizations, while only 17 percent of respondents either disagreed or strongly disagreed with the statement.
Practices that Outsource RCM Face Fewer Personnel Challenges During COVID-19 Pandemic
When city and state-mandated state at home orders took effect, a majority of practices were forced to shut down but needed to find ways for their medical billing staff to work remotely so that cash flow didn't come to a screeching halt. In addition to the IT and security challenges, practices with in-house billing offices are also working to manage a billing team remotely for possibly the first time.
Fewer personnel challenges were presented during the shutdown for those practices with an RCM outsourcing firm to manage the medical billing services. Based on client feedback at Revele, having a medical billing service to manage the claims process from the start of COVID-19 was a huge relief. Decision-makers at all levels agreed that it freed them up to focus on gathering personal protective equipment, providing telemedicine, and pursuing cash resources to prepare for the business impacts of COVID-19.
In addition to freeing up resources, outsourcing the medical billing during COVID-19 also allowed for financial relief. Managing an in-house team of medical coders and billers means there is a fixed cost associated with each employee's salary and benefits regardless of performance. Practices that outsource typically pay a percentage of net collections each month, which means throughout the COVID-19 pandemic, when charges and collections dropped dramatically, practices that outsource RCM also saw a reduction in the fees associated with the medical billing.
Practices that outsource RCM didn't have to stress over furloughs and layoffs or worry about covering the fixed wages related to an in-house RCM department. They did not panic to transition their billing staff to work from home or have to worry about gathering additional personal protective equipment for the billing staff should they need to return to the office.
The Impact of COVID-19 on Revenue Cycle Management
The COVID-19 outbreak certainly had an additional impact on those practices that currently manage the medical billing in-house the most. Still, those that outsource the billing operations aren't immune to particular challenges presented by COVID-19.
Regardless of whether a practice outsources the medical billing or manages the medical billing in-house, charges have dropped significantly. Per MGMA, practices are reporting a 55% decrease in revenue and a 60% reduction in patient volumes due to COVID-19. More than ever, practices must clean up accounts receivable for past services provided and ensure accurate charge capture for all services.
When will the next government-mandated shut down cause healthcare to once again hit the pause button for in-office visits and elective surgeries? Only the future will tell, but some practices aren't waiting for the next mandated shut down to evaluate medical billing outsourcing services or move employees to a remote status.
Increasing healthcare costs and medical billing complexity were already leading to a rise in outsourcing of medical billing services. Now that COVID-19 has presented even more challenges to healthcare and healthcare revenues, more healthcare decision-makers are faced with finding ways to reduce overhead costs, one of which may be RCM outsourcing.
Should I Outsource My Medical Billing?
Outsourcing isn't for every practice. However, those practices that do outsource the medical billing tend to see strong results. A survey conducted by the Medical Group Management Association (MGMA) showed that medical practices utilizing medical billing companies typically see improved performance across AR, collections, staff productivity and a number of other areas.
73 percent saw a reduction in their AR;
73 percent realized higher collections;
59 percent decreased the volume of lost/denied claims;
59 percent enjoyed significantly better reporting and practice performance insights; and
46 percent achieved higher staff productivity.
If you are considering outsourcing your revenue cycle management, you're likely wondering where to start. We have resources available to make your search for a medical billing service easier and are available for a discovery call should you choose to consider Revele's end-to-end revenue cycle management services.
Visit our resource library for more resources on eClinicalWorks and medical billing or book a time to meet with a Revele consultant to learn more about the results we achieve for our RCM clients.
---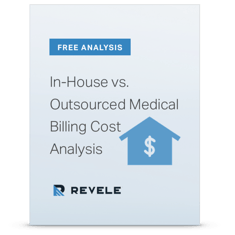 E-BOOK
In-House vs. Outsourced Medical Billing Cost Analysis
Compare the cost of in-house medical billing vs. outsourced medical billing to determine the best path forward for your practice.