Running a successful healthcare practice is about more than just acquiring new patients. A revenue cycle management (RCM) strategy plays a large part in ensuring your practice remains profitable. RCM strategies optimize revenue for services rendered by focusing on insurance and patient payments.
At the end of the day, a streamlined revenue cycle management strategy will help your medical practice maintain financial stability while delivering top-quality care. An outsourced RCM solution provides support for your practice without burdening your in-house team by eliminating errors, streamlining patient billing, and monitoring performance data. Here are five reasons you shouldn't try to piece together your healthcare RCM using in-house resources.
#1 You Don't Want to Overwork Your In-House Team
An efficient and profitable healthcare practice requires enormous support from staff members. Between completing administrative work and dealing with patients, staff often don't have the time to track medical bills and submit appeals for denied claims. Relegating claim appeals to administrative staff members isn't sustainable, and patient care may suffer if the overworked staff doesn't have the time to attend to other duties.
An RCM system relieves some of the burden placed on administrative staff by automatically completing daily tasks and organizing elements like patient forms, upcoming appointments, and medical records.
Is outsourcing medical billing more expensive than in-house billing? Download the analysis to find out the true cost of in-house and outsourced billing.
#2 You Can't Afford to Receive Delayed Payments
Delayed payments are another pitfall in handling your RCM in-house. Typically, there's a gap between a patient receiving care and the subsequent payment, but without efficient RCM, the lag between service and payment can extend from 30 to 90 days in a flash. Since medical bills are often complex, it's helpful to adopt AI solutions to handle certain aspects of billing. AI capabilities help healthcare providers manage claim status updates and receive more timely payments from insurance carriers and patients.
#3 You're Experiencing Increased Claim Denials
According to an article on RevCycle Intelligence, claim denials have increased astronomically in the last few years. Citing a study completed by the AHA, the article goes on to state that "the survey found that 89 percent of hospital and health system respondents have experienced an increase in claim denials over the past three years, and 51 percent of all respondents described the increase as 'significant.'"

With claim denials on the rise, it's even more important for your revenue cycle management system to code and file claims correctly from the start. RevCycle Intelligence states that "the report stated that failure to obtain a prior authorization was one of the most common reasons for a claim denial from a commercial health plan." RCM systems help providers avoid denials based on lack of prior authorization by obtaining and organizing patient information and identifying potential claim issues.
#4 You and Your Patients Struggle with the Complexities of Medical Bills
Medical bills are notoriously complex and difficult to understand. With regulations and requirements constantly changing, it's a seemingly impossible task to keep up with the ever-shifting landscape. RCM solutions support your practice by pairing you with a team of experts to help you understand complicated billing processes. Plus, by partnering with a fully equipped revenue cycle management team, your patients will have access to call-in support throughout their payment process. Furthermore, modern patient pay platforms, like REV Patient Pay, increase collections from patients and provides a medical billing situation that patients can understand and demand.
#5 You Aren't Monitoring Performance
Before you can run a profitable practice, you need to understand your revenue. Accounts receivable (AR) informs you of how quickly you receive payments for services rendered. Outstanding payments and AR balances for payers will tell you whether or not you are receiving timely payments. RCM services offer analytics to track and monitor these data points, so keeping tabs on your overall payment trends is easy.
Partnering with Revele
At Revele, we combine our expertise in claim handling, performance consulting, and data collection to offer our clients seamless revenue cycle management. Revele is a leading provider of revenue cycle management (RCM) and medical billing solutions designed specifically for eClinicalWorks EHR users. Revele also provides training, consulting, and EHR optimization services for medical practices using the eClinicalWorks EHR. Revele's clients include physician practices, hospital-owned physician groups, health centers, and enterprise networks across the nation.
Revele has been recognized on the Inc. 5000 list for three years and ranked as "Best in Class" in the Medical Group Management Association's (MGMA) list of top medical business and service organizations.

Interested in getting started with Revele? Contact us today to learn more about our solutions.
___________________________________________________

The Key Metrics for Measuring RCM Success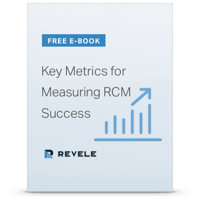 Start monitoring, managing, and optimizing your revenue cycle management against the top healthcare RCM key metrics. Download the free e-book today.