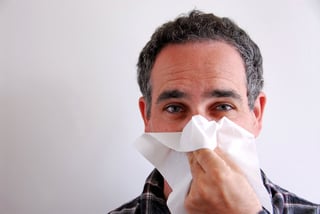 With children back in school and people spending more time indoors, it's only a matter of time before flu cases start showing up in your practice. Of course, your best coping mechanism is doing what you can to prevent flu transmission in the first place rather than having to go into reactive mode after an influx of cases. For most practices, this means developing a plan to get patients vaccinated, but you need to define your plans in greater detail.
Many practices fall short by not making decisions in advance about handling higher patient volume, managing supply needs for flu season, schedule modifications, and communicating with patients efficiently. Though it's difficult predicting what kind of flu season you'll face, think back to last year's flu season. What could you have done differently? How might you be more prepared this time around? Here are some considerations when preparing for flu season in your office.

Provide patient outreach and education.
Your Electronic Health Record (EHR) system can make a difference in how well you are able to cope with the upcoming flu season. Some systems include communication tools that allow medical practices to communicate to patients via voice message, email, or text message. This is a great way to remind patients they need their flu vaccine, or to announce a special flu shot clinic, or extended hours to accommodate those who have trouble getting in to see you during regular business hours. Check in to the tools your EHR system offers for keeping patients informed and up to date before investing in new stand-alone tools.


Prepare your staff and facility.
Taking a methodical approach, complete with checklists if necessary, can be helpful. That often starts with having your entire staff vaccinated against the flu virus. Helpful signs with flu-related messages should be posted in your office or on your website, and you should ensure hand sanitizers are readily available in waiting rooms and exam rooms. Nurses can also educate patients on important practices like hand-washing. You also might consider having a supply of rapid flu diagnostic kits on hand so you can get quick flu diagnoses with just a nasal swab and have less guesswork when advising patients.
Stay positive.
Depending on when flu season hits, you may be dealing with other challenges in the office at the same time. That's why it's important to look ahead and take care of issues like finding out if there are any CPT code changes or reimbursement changes associated with your flu vaccines so you can charge correctly and make sure your cash flow is on time and accurate. Bear in mind that you may experience inconsistent vaccine deliveries depending on your source. For example, if you use federally funded Vaccines for Children vaccines for Medicaid patients, it's important to order early, particularly since more pharmacies and retail clinics will be competing to get these supplies for their clients.
Make Sure Your EHR System Is Up to the Task
One foundational step that makes flu season easier to cope with is an integrated EHR system. In addition to its powerful suite of built-in features, eClinicalWorks also includes
Messenger,
a care management tool for efficient communication with patients. Messenger is built into eClinicalWorks, and allows you to reach patients by voice message or text message so they can easily communicate with your practice and confirm appointments. Additionally, you can use it to send out multiple messages without overtaxing your staff when unexpected changes occur during flu season, like your practice being closed due to weather, or a doctor being out sick.
GroupOne Health Source is a national leader in healthcare revenue cycle management, and is a Gold Certified
eClinicalWorks
implementation partner.
Contact us
to learn more about GroupOne's RCM and EHR services.