The project outfits a percentage of BHN's community providers with a Cloud-based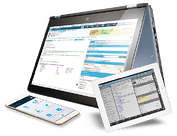 EHR solution that will streamline processes between practices.
Banner Health Network has selected eClinicalWorks to power its electronic health records and population management needs for its 600 medical providers. This cloud-based technology will help improve continuity of care across multiple settings by ensuring that critical information is accessible at the point of care.
"We were looking for technology that would help us deliver the highest quality of care efficiently," said Jennifer Jackson, Sr. Director for IT and Population Health Data Systems at BHN. "Many of our physicians were using eClinicalWorks successfully in their practices, leading us to a decision to expand our use of this platform. Because it is designed with a highly coordinated patient care experience, eClinicalWorks' technology will also aid us in meeting our quality of care initiatives, including specific ACO metrics."
The agreement means that a percentage of BHN's community providers will be fitted with a Cloud-based electronic health records solution to streamline processes between practices with an increased focus on delivering preventative care. In addition, BHN will utilize Join the Network, a free P2P network for securely exchanging referrals and communications.
BHN has been working actively to reduce costs, increase efficiency, and improve outcomes. Banner Health also recently initiated a telehealth pilot program with Royal Philips aimed at addressing the shift towards value-based care and increased penalties for readmissions. The pilot reduced costs of care by 27 percent, driven primarily by a reduction in hospitalization rates and days in the hospital, as well as a reduction in professional service and outpatient costs. It also reduced hospitalizations by 45 percent.