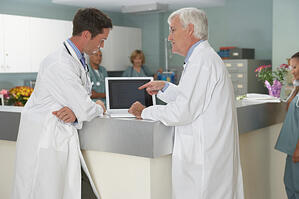 The days of paper medical records being an adequate solution for healthcare providers are over. Not only do national healthcare initiatives and payers like Medicare drive demand for electronic health records (EHRs), they simply make sense considering the level of recordkeeping required today.
Some doctors have resisted EHRs, and not without cause. There are EHR systems that are cumbersome, buggy, and that don't enhance practice efficiency. If you have implemented an EHR solution and are less than thrilled with it, don't assume that all EHRs are useless. In fact,
88% of health care providers report
that their EHR produces clinical benefits for the practice. There are plenty of options when it comes to EHRs. If you are unsatisifed with yours, it may be time to switch to another EHR.
The Downsides of Free or DIY EHRs
Yes, there are "free" EHR solutions available. They may be short on features, but it's hard to beat their price point. While a free EHR solution may work for a tiny practice, a medical facility of any size will have a hard time making a free EHR solution meet its needs. When it comes to meeting Meaningful Use, many practices have struggled because of the lack of interoperability and reporting features that come with a free EHR. Before choosing a free EHR software for your clinic, review other systems that are not free. Compare the features of each and ask the EHR vendor on how they plan to scale the software for upcoming challenges that Meaningful Use brings.
Your EHR Solution Should Not Interfere With Actual Patient Care
One major complaint healthcare providers have about EHRs is that data entry is time-consuming, particularly for practices that don't employ a scribe or other assistant for this purpose. Many physicians who enter notes by typing them in complain that their EHRs are cumbersome enough to
interfere with actual patient care
. If this is a problem in your practice, self-blame is not the answer. Your EHR should allow you to enter data that's complete and accurate without having to sacrifice time spent in patient encounters or work overtime. If documenting in your EHR is difficult, consider additional training. If it is the layout of the software and lack of customization available, it may be time to consider another system.
If Your EHR Requires Processes That Clash With Workflows, Expect Problems
Your EHR should coordinate and harmonize with your practice's workflows, and not the other way around. If you're considering an EHR that would require major shifts in processes, it may be the wrong EHR for your facility. Naturally, you should periodically examine workflows to ensure they are efficient and make sense for the type of cases you deal with, and make changes if necessary. But if you have good workflows, you should not have to upend them to cope with the demands of an EHR system.
Avoid Information Overload From Your EHR

Just because an EHR offers a feature doesn't mean you have to use it (unless it's to fulfill a regulation requirement). For example, some EHR systems allow automatic physician email alerts. For a small or specialty practice, this can be quite useful. But for a primary care physician with a high patient load, these automatic email alerts can produce a volume of messages that is overwhelming and not useful. Check the defaults for any EHR you consider and find out if you can override the ones that don't make sense for your facility.

Analytics Can Go Along With User-Friendliness

Don't think that you have to give up the power of great analytics for a user-friendly EHR. There are EHRs that make great use of all that data doctors and others enter. Drug allergy checking, drug interaction checking, and clinical decision support are considered basic analytics, and can be tremendously useful. More analytics are being incorporated, though some of the challenges involved are sizeable. If you want great analytics, you don't have to put up with an overly complicated interface. Explore all your options.

Conclusion

You don't have to deal with the drudgery of paper medical records, and you don't have to accept an EHR solution that isn't user friendly and doesn't coordinate with your established workflows. Choosing the right EHR to fit the demands of your medical facility is a big task, but one that should be undertaken with planning and forethought. The right EHR choice benefits patients, doctors, and insurers, and can help your facility experience higher revenues and lower costs.

GroupOne Health Source is a top rated MGMA billing service and certified implementation partner of eClinicalWorks EHR. We're industry leaders with an extensive track record of helping practices like yours meet the unique challenges of a successful EHR implementation and revenue cycle management. If you would like to know more, please schedule a free EHR consultation with us. GroupOne Health Source is ready to help you implement the right EHR for your practice without a disruption in your cash flow.