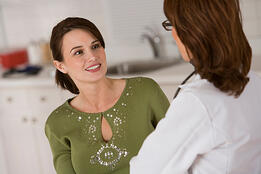 For a medical practice to succeed in providing the care patients need and staying financially solvent, physicians and office staff must work together in a sometimes carefully choreographed team effort. The reality of operating a medical facility today includes electronic medical records (EMRs) for most.
Physicians love EMRs in theory, because who wouldn't want greater ability to access patient information in order to improve the care they receive? Implemented properly, EMRs improve a practice's ability to offer guideline-based care, track diseases, and communicate amongst staff. If nothing else, eliminating illegible handwriting makes a difference.

Reality, however, doesn't always live up to expectations. For a practice to operate efficiently and effectively, staff members have to work together as a team, ensuring information entered into records is accurate from the time an appointment is booked until a patient's bill is paid, and implementing smart workflows that reduce inefficiencies and help ensure consistent revenue flow. Here are 3 ways office managers can work to improve practice operations and support physicians with their patients.

1. Accurate Patient Information

Ensuring the accuracy of patient information requires vigilance on everyone's part. It helps when appointment schedulers can collect patient insurance information when the appointment is booked to learn about necessary pre-authorizations. Reception personnel can collect co-pays so that back-office staff can focus on claim accuracy and timeliness.

The nursing staff may need to become more involved in recordkeeping, or the practice may benefit from hiring a scribe. Some practices improve data collection and EMR accuracy by creating documentation templates that guide physicians' notes to include all necessary information for coding and billing staff.

Training leading to and following the transition from ICD-9 to ICD-10 will be essential to maximum data accuracy. Coordinating the transition with technology vendors and insurers is critical also. ICD-10 will allow for more accurate documentation but it will be a difficult transition for practices that do not have the necessary coding resources.

2. Ensuring Physicians Have Smart Workflows

Practices that have not yet moved to EMRs should thoroughly research their options to ensure they choose an EMR system that facilitates the clinical workflow. When the practice does things in one order, but the EMR takes in data in another order, inefficiencies result. It's critical that office workflows, from appointment scheduling through accounts receivable mesh with how EMR systems are used to maintain the most efficient workflows.
In some instances, small modifications to office processes or workflows can result in a better fit with the EMR, and long term efficiency results. But a bad fit between EMR system and the workflow that the practice depends on may call for switching to a different EMR system, painful as that may sound.

3. Maximize the Use of the EMR

The mere implementation of an EMR system represents an improvement for most medical practices, because they allow tracking of patient data, make it easier to identify who is due for check-ups, follow-up care, or screenings, and generally help with monitoring care quality.

Beyond this, however, you must ensure that your practice network has sufficient bandwidth to handle the activities of your EMR system without lagging, even when workloads are heaviest. This is particularly important if your practice uses a VoIP phone system, video conferencing, or other bandwidth-hungry applications.

Finally, there is simply no substitute for adequate training of all appropriate staff on use of the EMR system. Even systems that are user-friendly will require training so staff can use all available features correctly. When systems are upgraded, or when there is higher staff turnover, refresher training for existing employees may need to be scheduled as well as initial training for new personnel.

Conclusion

Office managers are essential to the success of medical practices, whether a single-physician practice or a large group practice. Every staff member who handles patient data has a role to play in helping the practice operate efficiently and ensuring revenues aren't left on the table due to carelessness.

EMRs have much to offer, but without trained staff, workflows that coordinate well with EMR processes, and sufficient IT resources to keep the systems running at speed, they can fall short of their promise. However, when the staff, the EMR system, and IT infrastructure all work in harmony, physicians can focus on patient care with fewer worries about recordkeeping or maintaining revenue flows.

GroupOne Health Source is a leader in providing EHR revenue cycle management solutions. GroupOne's unique combination of EHR and RCM expertise has helped hundreds of practices across the nation successfully implement an EHR without interrupting cash flow. Contact us today to learn more about our EHR and RCM services.