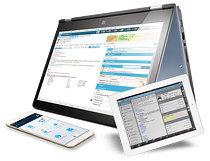 eClinicalWorks®, a leader in ambulatory healthcare IT solutions, is pleased to congratulate Massachusetts' Grove Medical Associates (GMA) on being awarded a Healthcare Information Management Systems Society (HIMSS) Ambulatory Davies Award of Excellence, which recognizes outstanding achievement of organizations that have used health IT, specifically electronic health record (EHR)-enabled improvement, to notably improve patient outcomes while achieving return on investment. This is the 13th eClinicalWorks' customer to receive a HIMSS Davies Award of Excellence in the past eight years.

Located in Worcester County, Mass., GMA focuses on internal medicine and is affiliated with the Central Massachusetts Independent Physicians Association (CMIPA). GMA has four Board Certified Internal Medicine physicians, a Physician's Assistant, a Nurse Practitioner, a Certified Nutritionist, registered nurses and medical assistants for more than 6,500 patients. In 2005, Grove Medical Associates implemented eClinicalWorks as a unified practice management and EHR solution to help improve the quality of patient care, streamline workflow and generate a return on investment (ROI), resulting in a 315% ROI.

"Grove Medical Associates focuses on a team approach to providing comprehensive health care in a high-quality and cost-effective manner," said Dr. John E. Kelly, primary care physician at Grove Medical Associates, P.C. "We have seen a significant return on investment since implementing electronic health records, both financially and in regard to patient care. Now that we have our EHR system, we are seeing more patients a day, maximizing insurance incentives and adding health services. We have also seen significant care quality improvements and increased patient satisfaction."

As stated in information on the HIMSS site, GMA's use of technology along with a commitment by the practice has led to clear returns on this initiative. Since implementing the EHR system, charts are easily accessible with complete and accurate information, more patients are seen daily, additional health services are offered and preventative measures are easily tracked. Also, 81% of its patients have signed up for the eClinicalWorks Patient Portal, making it easy for the practice to communicate all normal lab results, imaging results and scheduled outside appointments. Appointment reminders are sent electronically and preventative measure campaigns, such as flu shot clinics, are established, reaching only the appropriate patients. This work culminated in GMA receiving a communications score of 97.4 in the Massachusetts Health Quality Partners 2013 Patient Experience Survey Report.

"Grove Medical Associates has been an early proponent of aligning technology and people to improve the care delivered to its patients," said Girish Navani, CEO and co-founder of eClinicalWorks. "The great success this practice has achieved after the eClinicalWorks EHR implementation, along with its commitment to providing a secure communication channel between the practice and patient, demonstrates the real clinical and practical value that can be derived from utilizing the right solutions for a practice. As demonstrated here, healthcare technology can work together with medical providers to deliver the best possible care. We are proud to be a partner of Grove Medical Associates and congratulate the practice on receiving this award."

Grove Medical Associates will be recognized at the 2016 Annual HIMSS Conference & Exhibition, February 29-March 4, 2016 in Las Vegas, according to HIMSS officials. For more information on applying for the HIMSS Davies Awards of Excellence, visit the HIMSS Davies Award website.

About eClinicalWorks
eClinicalWorks® (eclinicalworks.com) is a privately-held leader in ambulatory healthcare IT solutions. With physicians across all 50 states using its solutions, customers include ACOs, physician practices, out-patient departments of hospitals, health centers, departments of health and convenient care clinics. Thirteen eClinicalWorks customers have received the prestigious HIMSS Davies Awards during the past eight years, honoring excellence in electronic health record implementation. The company is second largest in the country for e-prescribing. Based in Westborough, Mass., eClinicalWorks has additional offices in New York City, Chicago, California and Georgia.
eClinicalWorks EHR offers numerous tools for facilitating physician and patient communications. As a Gold Certified Reseller and training and implementation partner of eClinicalWorks, GroupOne Health Source can help your practice successfully implement eClinicalWorks. GroupOne is operated by specialists who are highly skilled in use of the eClinicalWorks EHR system for better revenue cycle management and practice efficiency. GroupOne Health Source, has over 20 years of experience in full-service medical billing, transcription, technology, and consulting and is one of the nation's leading medical business service organizations. If you would like to know more about how GroupOne Health Source puts its EHR and revenue cycle management expertise to work for practices like yours, contact us at services@g1hs.com.