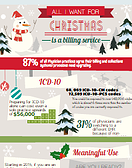 With Christmas just around the corner, many physicians and practice managers are adding billing services to their wish list. In fact, 71% of physician practices are considering a combination of new software and outsourcing services to improve their RCM systems.
Some of the most common reasons for needing a billing service include
ICD-10
Meaningful Use
The Affordable Care Act
Declining Reimbursement
Rising Costs
Combine these 5 major obstacles along with the rising operating costs that physician practices face and you should have a good idea as to why so many practices are considering outsourcing the billing.
Outsourcing may not be a good fit for all practices. However, a survey conducted by Medical Group Management Association (MGMA) published August 27, 2013, showed that medical practices utilizing medical billing outsourcing companies typically see improved performance across multiple dimensions. The survey reported the following results for practices that switched from in-house billing to a medical billing company:
73% saw a reduction in their A/R

73% realized higher collections

59% decreased the volume of lost/denied claims

59% enjoyed significantly better reporting and practice performance insights

46% achieved higher staff productivity