Private equity acquisition is a complex process that requires a lot of due diligence and research. It can be difficult to accurately value a medical practice, identify potential risks, and make informed decisions.
Fortunately, an analysis of the RCM (Revenue Cycle Management) process and the related KPIs (Key Performance Indicators) can help purchasers, and equity firms determine the true value of a medical practice. Medical practices, regardless of size, often struggle with optimizing the RCM process. An expert in the revenue cycle process can often identify the amount of revenue that is being missed due to poor RCM performance. Of course, the amount of missed revenue can impact the true value of a medical practice. Furthermore, If the amount of missed revenue is large, RCM experts can help hospitals or equity firms find "hidden gems" or medical practice businesses with significant upsides.
With RCM experts' assistance, private equity firms and other purchasers can make more informed decisions when it comes to acquiring medical practices. Let's discuss how to gain insight into financial performance and ensure that your private equity group is making a sound investment when it comes to acquiring a medical practice.
How to Accurately Value a Practice
Private equity acquisitions of medical practices are becoming increasingly popular. However, it is important to value the practice accurately and appropriately in order to maximize returns. This is where RCM (Revenue Cycle Management) comes into play. It helps to evaluate the effectiveness of a medical practice by assessing its performance across various key metrics including:
Patient Volume
Net Collection Rate
Denial Rate
Writeoffs
Days in A/R
Payer Mix
Reimbursement Rates
Billing Accuracy
An RCM analysis can help potential buyers understand how well a practice is performing and whether or not it is worth investing in. For example, if a practice has a Net Collection Rate of 74%, a qualified RCM expert can calculate how much more the practice should be collecting if it had an industry standard of 95%-97% NCR. The expert should also be able to identify if the practice has been under or over-coding, which can result in either under or overstated revenue. Furthermore, an experienced medical RCM expert can compare the performance of the target practice to its peers.
In general, the RCM expert can project what the practice's collection should be if the RCM process were optimized. Depending on the size of the practice, this revenue delta can be and is often hundreds of thousands or more. Ultimately, RCM experts should provide valuable insight into the true value of a medical practice which can be used to inform an appropriate valuation for private equity acquisitions.
RCM Experts Role After an Acquisition
The quickest way to increase the value of a medical practice after purchase is to make sure the practice is collecting all of the money for the services it is providing. As discussed above, this it typically a challenge for many practices, whether they are performing RCM in-house or utilizing an ill-fitted outsourced option.
In most cases, working with a competent and professional RCM firm can provide the most bang for the buck. Working with RCM firms can provide many benefits to healthcare providers. Professional RCM companies can help to reduce errors and delays in the billing process. They can also help to reduce costs, as they eliminate the need to hire and train additional staff. Furthermore, professional RCM companies can help to speed up the payment process, as they have the expertise and resources to ensure timely and accurate claims submission.
The access to expertise, both depth, and breadth, gained by working with RCM professional firms can be hard to match. Finally, they can help to maximize reimbursements, as they are well-versed in the latest technologies and can negotiate with insurance companies for higher reimbursement rates.
The COVID situation provided a great example of how the use of a competent RCM firm can provide superior performance compared to the industry in general.
Work with Revele
Get the most out of your medical practice acquisition by partnering with Revele. Revele is a company made up of medical practice RCM Experts. We have helped our clients evaluate the RCM process for target medical practices. Revele has developed proprietary tools to streamline the evaluation process. At Revele, we're dedicated to helping our clients get the most from their investments.

By: Keith Lage, CPA


Contact us today to get started!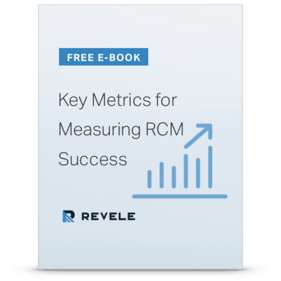 Start monitoring, managing, and optimizing your revenue cycle management against the top healthcare RCM key metrics. Download the free ebook today.