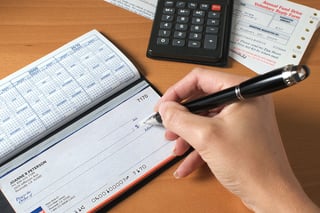 Payment disputes are a fact of life for most medical practices. With the increasing number of high deductible health plans, Americans are struggling over medical debt and putting more of their take-home pay into medical costs than ever. A survey by NerdWallet found out that Americans pay three times more for third party collection of medical debt than for credit card and bank debt combined. In 2014, around 20% of American adults were contacted by debt collection agencies because of medical bills.

Even when Americans expect sizable medical bills, they're often surprised by just how sizable they are. The NerdWallet survey found that 63% of Americans say they've received medical bills that were higher than they expected. From 2010 to 2013, American median household income fell by $2,300, yet healthcare expenses during that time increased by $1,814, and out-of-pocket healthcare spending is expected to experience annual growth of double the GDP growth for the next several years. It's no wonder billing disputes between medical practices and patients are so common. Here's what you can do to prevent and cope successfully with billing disputes.

Set expectations from the start
Communicate your practice's financial policy at the beginning of every new patient encounter. If you don't have a written financial policy, you should, and should provide a copy to every new patient. Many insurers provide eligibility and pre-authorization software that you can use to inform patients when procedures aren't covered or require pre-authorization. When patients know at the outset that a procedure won't be covered by insurance, they're less taken aback once the bill arrives. Some practices get good results by discounting payments made in advance.

Provide price transparency
Providing price transparency with medical care is difficult, because it is so customized. But where you can provide pricing information, you should do so. According to the NerdWallet survey mentioned above, nearly three-quarters of adults said they could make better healthcare decisions if they knew how much medical procedures cost in advance. Though you may not be able to give patients an exact figure, over time you should be able to give them a rough estimate of what their out of pocket costs will be, particularly for procedures your practice performs frequently.

Designate a billing advocate
If you can, designate one of your billing specialists as a patient billing advocate. This should be someone with excellent people skills who doesn't mind working with patients. Your billing advocate can answer patient questions about insurance coverage, billing, and payment options. He or she should make it a priority to stay up to date with insurer trends, coverage changes, and software tools provided by insurers to help with out-of-pocket cost estimates. This person may be helpful in finding ways to improve the billing process so as to prevent misunderstandings.

Use integrated billing software
If your billing software isn't integrated with your EMR, you're more likely to experience mistakes and misunderstandings with patient billing. An electronic health records (EHR) system like eClinicalWorks not only provides exceptional electronic records, but also powerful and accurate billing software that can cut your billing costs, reduce insurance denials, and cut down on the amount of time spent dealing with billing and collections issues. Users of eClinicalWorks billing software have made impressive improvements in collections.

Using a medical records solution like eClinicalWorks empowers your billing staff to create accurate, timely statements and streamline the billing process. GroupOne Health Source is a leading provider of complete revenue cycle management services for eClinicalWorks EHR users and has helped countless medical practices streamline and improve billing for higher collections and fewer misunderstandings with patients. Contact us today to learn more about our revenue cycle management services or schedule a live demo to see how we can help.