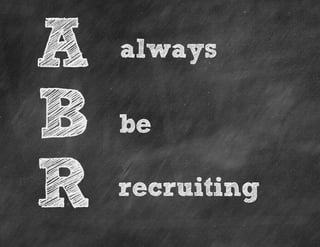 Every industry on Earth has changed drastically in the 21st Century. Healthcare professionals, however, have been hit harder than most, with changing insurance policies, an uncertain economy, and the demands of the Information Age to contend with. People working in the medical industry are constantly coming and going, and savvy practices must learn how to recruit effectively to not only have the best and brightest in their field, but any doctors at all.
Michael Jones is the editor and social media manager for HospitalRecruiting.com, a website dedicated to bringing the best healthcare professionals together. He took a moment to tell us how to recruit the best healthcare professionals, and why it's essential.

Considering that 3 out of every 5 healthcare professionals are expected to look for a new job each year (according to a recent Glassdoor survey), why should practices be recruiting continually?

Well, as the 3 out of 5 statistic indicates, healthcare professionals are upwardly mobile people who can usually find new positions fairly easily. If you don't currently have an open position, the odds are high that you soon will; so it is best to be prepared. Even with a full staff, keeping in contact with prospective employees can make for a much smoother transition when one of the current staff chooses to move on. Most practices have constant openings anyway, so constant recruitment is pretty much mandatory.

On average, it costs $2,127 to hire a healthcare employee. How can a focused recruitment strategy using the appropriate technology help drive that cost down?

For most practices, recruiting needs to be a high-level priority in order to be truly successful. When healthcare organizations see a pattern of disappointing results from their recruitment efforts, it can often be due to a lack of engagement from the administrators and other higher-ups within the organization. These individuals may be relying too much on under-trained and inexperienced people. Through direct involvement, administrators can learn first-hand of the challenges involved in recruiting to their specific situation and be better able to make leadership decisions on how to address those issues.

It also takes an average of 112 days to fill a medical position. What can a company do to reduce that time if they are in dire need of help?

The biggest tip I have for that situation is to start as early as possible - or even better, to maintain a constant recruitment effort so that you can start talking to candidates you already know are interested on the first day. The reality is that many healthcare professionals need to be licensed and/or credentialed in order to take a new job, and they need time to give notice to their current employers. Those steps usually aren't started until after they've accepted a new job, so employers need to be ready to really hit the ground running on the first day to succeed in speeding up that time frame.

What are some things a practice can do to help distinguish themselves from the competition when recruiting healthcare professionals?

As someone who manages a healthcare job board, I can speak to some distinguishing features employers can emphasize in their job advertisements. The average job advertisement looks like it was written in a human resources department. What I mean by that is they only describe the job's responsibilities and required credentials. Those types of job ads are great at describing what the employer wants, but the problem is that they don't describe any of the information that the candidate is probably looking for.

Job ads that stick out do so by citing information that candidates are looking for: rate of pay, benefits, company culture, opportunity for advancement, hours (opportunity for part-time, job sharing, flexibility), etc. Employers can definitely distinguish themselves by imagining why a candidate would actually accept their job and putting those details into their job advertisements.

When considering candidates, what are some things a practice can look at to help them pick out the best and most suitable recruit?

Reading through resumes will narrow down the candidates by job history and credentials; but after that, the candidates' individual personalities are going to be the most important factor as to which one is the best recruit or best fit for the employer. Employers should make sure to check personal references in addition to professional references. Inviting the candidates to a social event such as cocktails or dinner along with some of the other employees within the company can also lead to a lot more clarity as to who is most likely to "work out" within the company.

When a practice is seeking candidates online, what are some things they can look at to help them determine intangible qualities, like bedside manner or dependability?

For online research, social media sites like Facebook, Twitter, and the rest can give a great insight into the candidate's personality and other intangibles.

At what point might a practice consider working with a professional recruiter rather than handling all of the hiring themselves?

Practices should take an honest look at their capabilities vs. their challenges when it comes to recruiting. If they are going to work with a professional recruiter, they might as well start as early into the process as possible in order to shorten the hiring time as much as possible. In some cases, practices may be able to work with a professional recruiter while also carrying on their own efforts. Since some candidates prefer to work with recruiters while other prefer to avoid recruiters, this may be the best way to ensure a quick fill for high priority job openings.
Michael Jones is the Editor/Social Media Manager for HospitalRecruiting.com
Connect with Hospital Recruiting on Facebook, Twitter , Pinterest, and Google+.