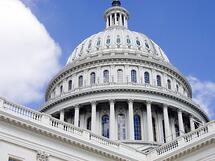 By a vote of 392 – 37, the House of Representatives passed H.R. 2, the Medicare Access and CHIP (Children's Health Insurance Program) Reauthorization Act of 2015, which, among other things, would permanently repeal and replace the SGR formula.
The bill now goes to the Senate for consideration. While the long-term prospects for this bill are positive, it is not clear whether the Senate will act quickly on the bill and move to pass it prior to March 31st. It is possible that the Senate could opt to take some time to consider the legislation and vote on the bill after the SGR cut takes effect.
HBMA has been encouraging the Congress to act on this legislation to ensure that whatever fix is adopted (short-term or long-term) is done before March 31st to prevent a 20% cut in physician fee schedule payments.
HBMA continues to urge the Congress to act to prevent the SGR cut from taking place.
The Senate adjourned at approximately 4:00am on March 27th without taking any action on H.R. 2. The Senate is now on a two week "state work period" and will reconvene on April 13th.
The Senate Leadership has said that the SGR bill will be one of the first orders of business on their agenda when the Senate reconvenes. Furthermore, we fully expect that when the Senate does act in concert with the House, any SGR fix they adopt will be retroactive to April 1st.
The President has said that he will sign H.R. 2 as soon as it gets to his desk.
Some HBMA members have said that in the event the Senate does not act on this bill prior to recessing, they will hold their provider's early April claims in hopes that the legislation will be passed shortly after the Senate returns on the 13th. This would prevent the need to reprocess those claims.
HBMA believes the long-term prospects for this bill are positive but the SGR cut scheduled to take effect on April 1st will occur.
In a March 23rd letter to all Members of Congress, HBMA President Curt Cvikota, CHBME pointed out that even if Congress adopted and the President signed the SGR fix legislation prior to April 15th and made the fix retroactive to April 1st, there would still be negative financial consequences for physicians.
With respect to the holding of claims, each HBMA member, in consultation with their clients, must make a decision on what is best for them, their clients and their client's patients. We will make every effort to provide the most up-to-date information as it becomes available so you can make an informed decision on whether or not to hold early April claims.
The Healthcare Billing & Management Association (HBMA) is a member-led trade association committed to the education of medical billers and promotion of high ethical and professional standards within the industry. HBMA also advocates and educates legislative stakeholders and federal agencies to improve the business of medical billing and the practice of healthcare. HBMA members manage claims on behalf of hospital-based physicians, physician practices and other providers, and represent more than 30,000 individuals and over 600 companies. To learn more about HBMA, please visit www.hbma.org.
An Outsourcing Solution with Proven Results
GroupOne Health Source is a complete revenue cycle management service for EHR users. GroupOne's 20+ years of experience and unique combination of advanced technology and analytics can help medical practices meet financial goals.
Click here
to read GroupOne's 32% Raise in Monthly Revenue Study