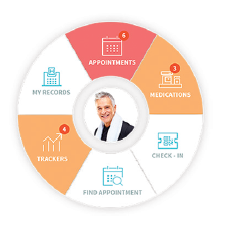 As the business of healthcare IT continues to evolve, helping doctors provide access to their patients' continues to be at the forefront of the industry. Patients are constantly looking for new ways to manage their health while doctors look for new ways to advance patient engagement. With eClinicalWorks, providers and patients have the opportunity to fill the gap in improving health outcomes.
eClinicalWorks, a leading ambulatory EHR system, is investing $25 million over the next 12 months to advance patient engagement tools under the business unit they have named healow. Healow, short for health and online wellness, is a free mobile app now available on Android and iOS mobile operating systems. The new smartphone application is a way for patients to manage their health by staying in touch with health care providers anytime, anywhere.
Empowering patients to manage their health care outcomes with two-way communication between the provider and patient is critical to preventative medicine and for many care coordination efforts such as Accountable Care Organizations, Patient-centered Medical Homes, and Meaningful Use. Patients can manage their medical records/summary, send messages to their providers, request medication refills, and view lab results with healow. However patients aren't the only ones to benefit from the healow app.
Providers will also be able to promote health and wellness by connecting with patients through the utilization of texting, voice messages, and email with the healow platform. The eClinicalWorks patient portal and eClinicalMessenger have already seen great success with patient engagement. Healow will take it one step further and help build upon the eClinicalWorks foundation to reach a larger audience.
Designed to promote the medical practice, the healow app also features "Open Access Scheduling." Participating providers can use healow to maximize the schedule by converting cancellations and open time slots to new patient appointments. Through healow, providers can make their practice visible to all new patients in the area who are looking for health and wellness visits online every day. healow can also streamline the front office workflow and productivity by allowing current patients to select an appointment on a day and time that is convenient for them!
Healthcare providers not using eClinicalWorks can join the eClinicalWorks network as a means for collaboration which would then give their patients access to their personal health record (PHR) via healow. With the expansion of the eClinicalWorks network and healow users, the possibilities are endless. Girish Navani, CEO and co-founder of the privately held eClinicalWorks, anticipates outside developers to continue to design apps that will integrate with healow. Ultimately using one platform to make health and wellness management easy for patients.
The cloud-based healow app will soon be modified to allow patients to access their health records even if their doctors are not eClinicalWorks subscribers. Non-member doctors can make this possible by joining a network established by eClinicalWorks as a way for collaboration among practitioners, similar to other features like the peer-to-peer network, regardless of the electronic health records service they use. Already, 20 percent of the network's members are not subscribers of eClinicalWorks, Navani says.
healow™ - Health & Online Wellness – is the only portal your patients will ever need to manage their health and wellness! Whether your patients want to communicate with you or are in the market for a provider of health-related services such as nutrition counseling, wellness coaching, an organic food store, a local fitness center, or any of the many health and wellness products and services available, healow is THE place to go!