---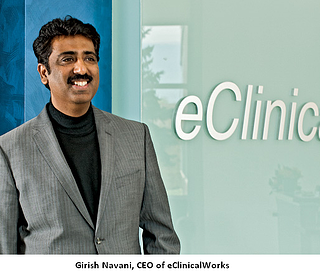 Medical software company eClinicalWorks will spend more than $50 million to expand its Massachusetts headquarters. eClinicalWorks has purchased a third office building in Westboro for $21.1 million and plans add 1,000 jobs over the next three years. The expansion will double the company's Westboro workforce of about 900.

"We have offices across the country, but when it comes to expanding at a big number, like a thousand more is what we forecast over the coming years, we just thought doing it closer to our headquarters was the right choice," CEO Girish Navani said. "A beautiful building became available, and we essentially jumped on it within 48 hours and bought it."

Privately held eClinicalWorks is one of the country's biggest vendors of electronic health records with 2014 revenue reaching $333 million, up from $270 million in 2013. Its customers include more than 100,000 physicians across the country and 50,000+ facilities. eClinicalWorks continues to expand its core business of providing record systems to doctors offices and prepares to launch a new system specifically for hospitals, chief executive Girish Kumar Navani said.

Mr. Navani said eClinicalWorks, which employs about 4,300 people worldwide, expects to post about $400 million in revenue in 2015.

"We're having another banner year," Mr. Navani said. "We expect our business to continue to have significant growth for the foreseeable future. We need talent. We need people, and we need space."

eClinicalWorks plans to spend $30 million to finish and refurbish the recently purchased office building at 900 West Park Drive. The building was previously owned by EMC Corp and has been vacant since it was constructed 15 years ago.

Navani said that much of his company's growth now comes from medical practices that are abandoning other software programs and choosing eClinicalWorks' offerings.

"People are making the switch," Navani said. "[They're] wanting to get a system that they think physicians prefer."

IDC's research shows that eClinicalWorks is the second-largest provider of electronic health records to medical practices, behind Epic Systems Corp.