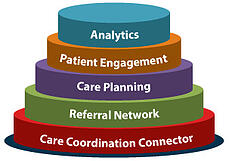 eClinicalWorks®, a leader in ambulatory healthcare IT solutions, today announces that New Orleans' Tulane University Medical Group (TUMG) is live using the eClinicalWorks Care Coordination Medical Record (CCMR) platform for population health management. This partnership provides TUMG with technology to enhance workflow and improve care coordination for its 350 medical providers. TUMG has been utilizing eClinicalWorks comprehensive electronic health records (EHR) solution since 2009.
"Our mission at Tulane University Medical Group is to continue our tradition of excellence and expertise in providing the highest quality of care, education and research," explained Dr. Timothy Harlan, Medical Director of Outpatient Clinics and Associate Chief of General Internal Medicine at Tulane University School of Medicine. "To help with this, we required a system with real-time access to clinical and financial performance data and the ability to aggregate information from all payers in order to have a more immediate impact on care. We chose eClinicalWorks partly because of the tight integration of CCMR with the EHR, making the physicians' jobs easier. eClinicalWorks has been a great partner and is willing to adjust to fit our workflow."
eClinicalWorks CCMR will provide TUMG with visibility into a patient's care across all settings, facilitate smooth transitions of care, engage patients and providers in preventative care, improve outcomes among populations and reduce costs. The platform provides a rich, intuitive approach to clinical, fiscal and predictive analytics along with risk stratification and quality measure reporting. A vendor-neutral, open network securely connects ambulatory EHRs with hospital in-patient systems and various payer claim feeds, including CMS, to provide cost and utilization for services delivered to patients. Analytics from the system can be leveraged in conjunction with research to further impact.
TUMG currently utilizes eClinicalWorks EHR, which incorporates patient engagement tools including the eClinicalWorks Patient Portal and Messenger. Patient Portal enables secure, two-way communication between TUMG providers and its patients, encouraging preventative care and increased engagement. Messenger is a fully-automated, closed-loop communication system that connects providers with patients via their preferred method of communication – voice, e-mail or text. These aid providers in keeping patients engaged in their own health.
"Tulane University Medical Group has been an early proponent of using technologies to help deliver better care," said Girish Navani, co-founder and CEO of eClinicalWorks. "eClinicalWorks CCMR enables care coordination from a variety of environments, giving organizations the tools they need to effectively undertake comprehensive care delivery. Our population health and patient engagement tools equip organizations, including Tulane University Medical Group, with the ability to connect medical providers with patients and deliver the most complete and up-to-date information. eClinicalWorks will make it easier for the physicians at Tulane to focus on what they do best, which is delivering the upmost care to patients."
Included in CCMR, eClinicalWorks Population Health Management Analytics uses closed-loop analytics to deliver reporting, alerting and messaging capabilities necessary to manage population health. Dashboards can be shown at the community level to determine and monitor adherence of clinical process and outcomes, including medication recalls and chronic disease management. Care coordination and analytics work together for a collaborative care framework.
About Tulane University Medical Group
The Tulane University Medical Group (TUMG), the clinical practice group for Tulane University School of Medicine, is dedicated to the successful practice of quality medicine as part of an academic health center. We have over 400 physician members with a diverse range of expertise, academic pursuits and clinical interests. Our goal is to create a smoothly running and collegial practice environment that allows our physicians to focus on the quality of care and teaching. Our approach strives to allow our group to shine in the local, regional and national markets to the betterment of our patients and institution. For more information, please visit tulane.edu/som/fpp.
About eClinicalWorks
eClinicalWorks® is a privately-held leader in ambulatory healthcare IT solutions. With physicians across all 50 states using its solutions, customers include ACOs, physician practices, out-patient departments of hospitals, health centers, departments of health and convenient care clinics. Twelve eClinicalWorks customers have received the prestigious HIMSS Davies Awards during the past seven years, honoring excellence in electronic health record implementation. The company is second largest in the country for e-prescribing. Based in Westborough, Mass., eClinicalWorks has additional offices in New York City, Chicago, California and Georgia.