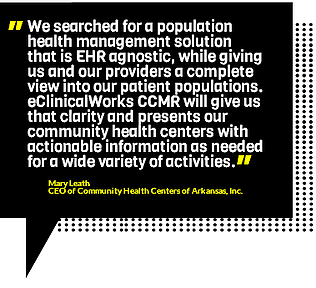 WESTBOROUGH, Mass.--(BUSINESS WIRE)--eClinicalWorks®, a leader in ambulatory healthcare IT solutions, today announced that Community Health Centers of Arkansas, Inc. (CHCA), a state-wide network of community health centers, has selected the eClinicalWorks Care Coordination Medical Record® (CCMR) solution for its 122 member providers across 10 practices and 58 locations. CCMR will be used to coordinate care across the continuum, including several electronic health records (EHR) systems, evaluating population health and quality improvement activities.
"Community Health Centers of Arkansas works with our member organizations across the state to ensure they have the resources required to deliver optimal care," said Mary Leath, CEO of Community Health Centers of Arkansas, Inc. "We searched for a population health management solution that is EHR agnostic, while giving us and our providers a complete view into our patient populations. eClinicalWorks CCMR will give us that clarity and presents our community health centers with actionable information as needed for a wide variety of activities."
eClinicalWorks CCMR is designed to provide visibility into a patient's care across all settings, facilitate smooth transitions of care, engage patients and providers in preventative care, improve outcomes among populations and reduce costs. A vendor-neutral, open network securely connects disparate ambulatory EHRs with hospital in-patient systems and payor claim feeds, including CMS, to provide cost and utilization for services delivered to patients. CHCA and its providers will leverage the Population Health Analytics within CCMR to provide quality measure dashboards to evaluate and improve the quality of care delivered. The analytics platform will also allow CHCA to identify, understand and manage the health of patient populations in the community.
"Community Health Centers of Arkansas brings together a network of clinical sites through community health centers to advance the quality of care of an underserved population," said Girish Navani, CEO and co-founder of eClinicalWorks. "eClinicalWorks delivers the top-rated population health management solution in the market, a comprehensive platform with powerful analytics, care coordination, patient engagement and a referral network. We look forward to working with Community Health Centers of Arkansas and its members in obtaining an actionable, comprehensive view of its patient populations."
Included in CCMR, eClinicalWorks Population Health Management Analytics uses closed-loop analytics to deliver reporting, alerting and messaging capabilities necessary to manage population health. Dashboards can be shown at the community level to determine and monitor adherence of clinical process and outcomes, including medication recalls and chronic disease management. Care coordination and analytics work together for a collaborative care framework.
About Community Health Centers of Arkansas, Inc.
Community Health Centers of Arkansas, Inc., Arkansas Primary Care Association, is a non-profit organization which is the "voice" for Arkansas' network of community health centers. Community health centers are community-based and patient-driven organizations that provide ease of access to local, comprehensive, quality, affordable primary care and preventive health services to the underserved population in Arkansas. For more information, please visit www.chc-ar.org.
About eClinicalWorks
eClinicalWorks® is a privately-held leader in ambulatory healthcare IT solutions. With physicians across all 50 states using its solutions, customers include ACOs, physician practices, out-patient departments of hospitals, health centers, departments of health and convenient care clinics. Ten eClinicalWorks customers have received the prestigious HIMSS Davies Awards during the past six years, honoring excellence in electronic health record implementation. The company is second largest in the country for e-prescribing. Based in Westborough, Mass., eClinicalWorks has additional offices in New York City, Chicago, California and Georgia. Click here for more information on eClinicalWorks EHR software.