eClinicalWorks Places in Leader Quadrant for Ambulatory Electronic Health Records Report
In a report released in November 2011 by IDC Health Insights, eClinicalWorks® earned high scores for its unified electronic medical records (EMR) and practice management (PM) solution that is used by ambulatory practices of all sizes, placing the company in the Leader Quadrant. This report, titled IDC MarketScape: U.S. Ambulatory EMR/EHR for Midsize and Large Practices 2011 Vendor Assessment, focused on electronic health and medical records for the ambulatory market, targeting the midsize and large practices.
IDC Health Insights provides research-based advisory and consulting services focused on market and technology developments in the healthcare industry. The report identifies the leading EMR and electronic health records (EHR) solutions used by the ambulatory market. Designed to help medical providers in this market select the EMR/EHR product that best suits their needs, the reports examined eClinicalWorks alongside nine other companies in the midsize and large practice category.
"Regulatory funding, along with cloud computing and the use of mobile devices, has led to a rapid adoption of EMRs. With a high number of vendors in this evolving market, it is important to provide a way for providers to sort through them and select those that meet the needs of their practices, now and in the next few years," stated Judy Hanover, a research director at IDC Health Insights, and author of the report. "eClinicalWorks was rated highly in many of the areas that we focused on, including functionality, usability, interoperability and customer satisfaction."
During the research, IDC Health Insights independently evaluated vendors' technology offerings and financial viability, surveying vendors and their customers based on comprehensive assessment criteria measuring how well their applications fit market needs and the confidence current customers have in the solutions. eClinicalWorks received high scores in each of those areas.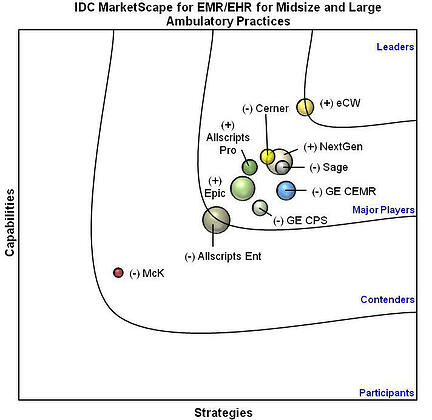 "eClinicalWorks delivers product innovations that are ahead of industry trends, working closely with its customers to ensure they enhance their practice," said Girish Kumar Navani, CEO and co-founder of eClinicalWorks. "This approach has allowed us to deliver comprehensive functionality to our customers, aiding them in delivering the highest quality of healthcare possible. We are proud of our strong performance this IDC Health Insight report."
About GroupOne Health Source, Inc.
Founded in 1991, GroupOne Health Source is a full-service medical billing, medical transcription, technology and consulting firm. GroupOne is a "Gold Certified" distribution, installation, training, and implementation partner of eClinicalWorks. GroupOne's "Best in Class" services have been recognized by the Medical Group Management Association (MGMA) in the association's list of top medical business service organizations. GroupOne has extensive experience in all aspects of healthcare practice management, and maintains a diverse client base located throughout the U.S.
For more information about GroupOne or to register for eClinicalWorks demonstrations, email services@g1hs.com, call (800) 769-5288, or visit http://www.grouponehealthsource.com.
About eClinicalWorks
eClinicalWorks® is a privately held leader in the ambulatory clinical systems market. The company's comprehensive electronic health records and practice management solution is proven for every market segment: large practice groups, including Massachusetts eHealth Collaborative (MAeHC) and the New York City Department of Health and Mental Hygiene, as well as medium, small and solo practices regardless of specialty. The company enjoys high profitability with a five-year compounded growth rate of more than 100 percent year-to-year. With an established customer base of more than 180,000 providers and 370,000 healthcare professionals across all 50 states, eClinicalWorks has been awarded multiple top industry honors including being named to the Inc. 5000 for the past five consecutive years. Based in Westborough, Mass., eClinicalWorks has additional offices in New York City, Pleasanton, Calif. and Alpharetta, Ga.
eClinicalWorks is a registered trademark of eClinicalWorks, LLC. All other trademarks or service marks contained herein are the property of their respective owners.