eClinicalWorks EHR | Product Overview
eClinicalWorks Comprehensive Electronic Health Records Solution:
eClinicalWorks provides more than a way for a practice to go paperless. eClinicalWorks comprehensive EHR is the next-generation healthcare IT solution, allowing practices to improve efficiency and enhance patient care. Using industry leading technology, eClinicalWorks helps practices achieve their goal of delivering the best patient care possible.
eClinicalWorks V10 is the next generation Electronic Medical Records (EMR), delivering interoperability directly from the clinical chart. The EMR includes multiple options for accurate, thorough, and fast clinical documentation plus ePrescribing, CPOE, Order Sets, and more.
eClinicalWorks V10 Practice Management is a fully integrated solution that eliminates duplicate data entry (resulting in fewer errors and greater office efficiency) and pulls data directly from the clinical note to form the basis for the claim. Comprehensive patient registration features along with robust scheduling for providers and resources make front and back office workflow smooth and efficient. Clearinghouse connectivity for real-time eligibility checking, secure, internal messaging, and business intelligence reporting makes eClinicalWorks's V9 Practice Management the solution of choice for practices of all sizes and specialties.
The eClinicalWorks Patient Portal features a streamlined user interface for both patients and providers while providing extensive functionality. The web-based Patient Portal lets patients communicate securely with their physician over the Internet. Patients can view their Personal Health Record, view lab/imaging results, schedule appointments, request prescription refills, complete practice forms, and much more.
eClinicalMobile® allows authorized providers to access patient information from any Smart Phone that has full Web browser capabilities. Providers can access schedules, write prescriptions, send messages, capture charges at the point-of-care, view the Patient Hub, and access encounters knowing that the data is encrypted and hosted on a secure gateway.
eClinicalMessenger®, a voice messaging system that utilizes Voice-Over-Internet Protocol (VOIP), enables the practice to send automated messages – in batch or individually to patients in a variety of formats (email, text message, voice message) and at times and locations specified by the patient. eClinicalMessenger can be used to send reminders for appointments, labs/imaging/procedures, practice notifications, etc. eClinicalMessenger is fully integrated within V10, is easily activated, and is customizable by the practice. eClinicalMobile is hosted by eClinicalWorks in a fully redundant, reliable, and secure environment.
eClinicalWorks features a suite of interoperability solutions that are fully integrated with V10 and include: a Physician Portal – eClinicalWorks Electronic Health eXchange (eEHX®) – a platform to securely share facets of patient care, including electronic referrals, patient record summary, lab results, and quality measure data; Longitudinal Patient View; eClinicalWorks P2P® – an interoperability tool for practice-to-practice and provider-to-provider communication between not only eClinicalWorks users but between eClinicalWorks – Other EMR users as well; Enterprise Master Patient Index; eHub to manage data exchange between multiple ancillary systems; and Quality Measure and Population Health Alerts. eEHX is a hosted solution, providing reliable and secure services for all of the practice's interoperability needs.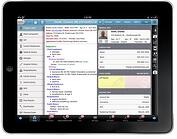 eClinicalWorks leverages iPad technology to give you the look, feel, and functionality you've come to expect from eClinicalWorks with the ease of use found in a native iPad environment. eClinicalWorks's iPad appcombines the most-used features of the eClinicalWorks EMR with intuitive navigation and cloud-based access from anywhere, making eClinicalTouch the first choice in portable EMR solutions!
Healthcare organizations have a significant opportunity to improve the outcomes with the advent of innovative delivery and payment models tapping into the advances in technology and its adoption. To capitalize on this opportunity, organizations need a solution to measure, benchmark, predict and manage risk, to close the gaps in coordinating care, to manage cost and utilitzation, to measure and improve clinical quality outcomes, to leverage evidence based care, and to collaborate with care teams and patients. CCMR from eClinicalWorks is the solution.
Other Services
eClinicalWorks
-
Medical Billing and Coding
-
Medical Transcription
-
OneRate Bundled Package
-
Medical Practice Startup and Management
-
Medical Consulting