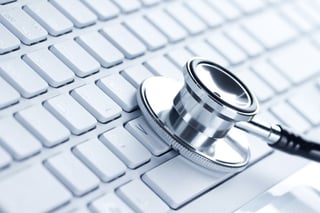 While many physicians had a sigh of relief when CMS Acting Administrator Andy Slavitt announced last Monday that the end of the meaningful use program is near, many were left hanging with unanswered questions as to what is next. On Tuesday, CMS posted an update to Slavitt's comments that outlines the transition and what it means for doctors and hospitals.
"The meaningful use program as it has existed will now be effectively over and replaced with something better," Mr. Slavitt said at the end of the federal EHR incentive program in his Jan. 11 address at the J.P. Morgan Annual Health Care Conference, running from Jan. 11-15 in San Francisco. "As any physician will tell you, physician burden and frustration levels are real," Slavitt said. "Programs designed to improve often distract. Done poorly, measures are divorced from how physicians practice and add to the cynicism that people who build these programs just don't get it."
We can all agree that the meaningful use program has been far from easy for healthcare providers. The technology, the changing criteria, the deadlines, and the cost of EHR technology has made meaningful use a nightmare for some practices and health IT leaders. While the meaningful use program kept most of us up late at night, we need to remember that it did help in driving the adoption of health IT over the past few years.
"Meaningful use has had a real huge impact on the adoption of health IT, especially in these critical access hospitals." said Michael Archuleta, Director of IT, Mt. San Rafael Hospital in an article posted by Becker's Hospital Review earlier this week. "If we wouldn't have had the incentives to basically fund all these EMR systems coming into place, we would have never moved forward in the digitization of healthcare."
Meaningful Use Is Not Literally Ending
The end of meaningful use doesn't mean it ends today and that you should stop participating. CMS made it clear today in a post by Slavitt and Dr. Karen DeSalvo, the Acting Assistant Secretary for Health in the U.S. Department of Health and Human Services, that physicians and other clinicians need to keep in mind that "the current law requires that we continue to measure the meaningful use of ONC Certified Health Information Technology under the existing set of standards."
Failure to report could mean the loss of thousands of dollars in bonus payments, as well as the impending 3% penalty. CMS just opened the portal to report; you have until the end of February to input your data.
You also might recall our post from earlier this month, Obama Signs Meaningful Use Hardship Exemption Legislation. CMS is now allowed to exempt basically anyone and everyone from the 2015 reporting year. I would guess this was put into place to prepare for the transition to a new program in place of meaningful use.
In case you missed it, the Patient Access and Medicare Protection Act, by Sen. Rob Portman (R-Ohio), will grant eligible professionals and hospitals "flexibility in applying the hardship exception for meaningful use for the 2015 EHR reporting period for 2017 payment adjustments."
CMS has posted new, streamlined hardship applications, reducing the amount of information that eligible professionals (EPs), eligible hospitals, and CAHs must submit to apply for an exception. The new applications and instructions for a hardship exception from the Medicare Electronic Health Records Incentive Program 2017 payment adjustment are available here.
This new, streamlined application process is the result of PAMPA, which established that the Secretary may consider hardship exceptions for "categories" of EPs, eligible hospitals, and CAHs that were identified on CMS' website as of December 15, 2015. Prior to this law, CMS was required to review all applications on a "case-by-case" basis.
While the originial deadline to submit an exemption was March 15 for EPs, and April 1 for EHs and critical access hospitals, CMS is extending the deadline so providers have sufficient time to submit their applications to avoid adjustments to their Medicare payments in 2017.
The Centers for Medicare & Medicaid (CMS) has extended the deadline to July 1 for eligible professionals (EPs), eligible hospitals (EHs), and critical access hospitals (CAHs) to apply for a Medicare Electronic Health (EHR) Incentive Program Hardship Exemption.
The application is available here on the CMS EHR Incentive Programs website. It is an easy way out of penalties but don't submit an application unless absolutely necessary. You'll miss out on the bonus payments if you submit the hardship application.
Following Congress' efforts in PAMPA, we have reviewed our administrative authorities and determined that groups of providers may apply for a hardship exception on a single application. Under the group application, multiple providers and provider types may apply together using a single submission. The hardship exception categories are the same as those applicable for the individual provider application.
Providers will have the option to submit an electronic file (in excel or csv formats) with all National Provider Identifiers (NPIs) or CMS Certification Numbers (CCNs) for providers within the group or use a multiple NPI or CCN form to submit their application. In addition, facilities which include both inpatient and outpatient settings may include both the individual NPIs for any eligible professionals and the CCN for the eligible hospitals and CAHs on the same single submission for their organization.
"Something Better"
What is something better? Something better as Slavitt referred to in his announcement is what comes next as CMS moves forward under MACRA. More details are expected this spring as CMS rolls out proposed regulations. Several critical principles that will guide what's next were outlined in the article released earlier this week:
Rewarding providers for the outcomes technology helps them achieve with their patients.
Allowing providers the flexibility to customize health IT to their individual practice needs. Technology must be user-centered and support physicians.
Leveling the technology playing field to promote innovation, including for start-ups and new entrants, by unlocking electronic health information through open APIs – technology tools that underpin many consumer applications. This way, new apps, analytic tools and plug-ins can be easily connected to so that data can be securely accessed and directed where and when it is needed in order to support patient care.
Prioritizing interoperability by implementing federally recognized, national interoperability standards and focusing on real-world uses of technology, like ensuring continuity of care during referrals or finding ways for patients to engage in their own care. We will not tolerate business models that prevent or inhibit the data from flowing around the needs of the patient.
Moving to MACRA
The new program will largely center on the Medicare Access and CHIP Reauthorization Act of 2015. MACRA links payment to value through the Merit-Based Incentive Program and measures physicians on four categories: quality, cost, technology use and practice improvement. "Now that we effectively have technology [in] virtually every place care is provided, we are now in the process of ending meaningful use and moving to a new regime culminating with the MACRA implementation," Mr. Slavitt said.
Robert Tennant, health information technology policy director for the Medical Group Management Association (MGMA), says physicians should keep the champagne on ice. For one thing, they will still be judged on EHR and technical capability.
While Tennant says a reworked meaningful use is "potentially very positive," the guidelines for MIPS are supposed to be released and finalized this year, which he notes could be a problem for physicians. "Payment under MIPS is supposed to take effect in 2019. If the traditional approach of using a two-year look back [to make those adjustments] is in place, it would mean reporting would begin in 2017," he says. "If you look at the timing from a regulatory process, we're concerned with how this would be accomplished."
"We don't know what we are moving ahead to," Tennant says. For practices, he advises to select software that fits their clinical needs and to not worry about "arbitrary and potentially changing" regulations. "Don't focus on 2017 or beyond. We don't know. The vendor doesn't know."
Even still, he is "cautiously optimistic" about Slavitt's remarks. "We're hoping CMS takes this opportunity to leverage MACRA to develop a program that is achievable and clinically relevant," he says.
CMS reports that the agency will issue clarifications in the next few months so stay tuned and subscribe to our blog for instant updates.