Stasia Kahn, a physician in the Chicago suburbs, spent 100 hours attesting to meaningful use stage 2 requirements. Many were easy. Some were hard. She feels it was worth the work she invested in it.
Stasia Kahn, M.D., has always seen herself as an early adopter of new technologies, a techie who taught herself informatics and who takes pride in her blog: "EMR Survival: The Definitive Guide for a Digital Medical Practice."
So in January 2014 when the race was on to attest to meaningful use stage 2 requirements, Kahn thought she'd get done by the end of the first quarter what many physicians imagine a pretty complicated and time-consuming process.
It wouldn't happen quite that quickly, but the internal medicine doctor -- who runs Symphony Medical Group, a busy, small practice in the Chicago suburbs -- nonetheless finished attesting to 17 meaningful use core criteria and three measures from a "menu" of six more difficult criteria, including eight new categories new to stage 2, in six months. Maybe not record time, but pretty close.
The work did, indeed, take a lot of her time, which Kahn squeezed in around tending to the 800 or so patients she cares for along with a part-time doctor, a medical assistant, an office administrator and some part-time help. There was no CIO or IT director to assist; she was it.
But it was well worth it, Kahn said.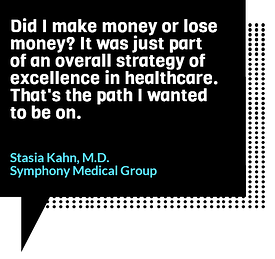 "For me, the decision I made starting with stage 1 is that technology can make me a better doctor," she said. "The decision to do this was a long-term investment on my part."
Doc says her vendor has backed her up
Kahn is a big fan of her EHR vendor, Westboro, Massachusetts-based eClinicalWorks LLC, which sells its cloud-based system into many small-and medium-sized medical practices and which prides itself on its software's interoperability.
Unlike physicians across the country who have complained about insufficient support from their EHR vendors, she has worked closely with eClinicalWorks technical support, sometimes fielding four or five calls a day. And she said not only has she leaned on the company to back her up, she has helped it improve its products with real-world feedback. "It's a partnership," she said.
For the company's part, vice president and co-founder Sameer Bhat said eClinicalWorks wants to help customers attest and navigate the maze of meaningful use, a program that Bhat says is worthwhile if it meets its goal of improving healthcare via technology.
"We spent a lot of time designing the product to make the end user's life easier," Bhat said.
Patient portal a success
Kahn has found that establishing the internal eClinicalWorks patient portal, which allows patients to view lab tests and other medical information, book appointments, and send and receive secure messages with her, is already cutting down on time spent on time-intensive back-and-forth phone calls.
She easily surpassed the 10% threshold for patient usage of the portal, enrolling 76% of her flock and getting a considerable portion of them to use it.
While Kahn said attesting to most of the criteria was "easy," two meaningful use stage 2 requirements in particular -- both involving patient engagement and both of which seem to be the thorniest to attest to for docs in smaller practices -- were anything but simple. Some of the easy tasks were moving an all-electronic prescription system (except for controlled substances, for which the DEA still requires paper in most cases), and such things as electronically recording and charting demographic and vital sign data for at least 80% of patients.
"You have to kind of have a whole patient engagement philosophy or strategy," Kahn said. "And it has to start at the top, with the doctor. Then it goes to the clinical staff, the front desk, everyone has to be pushing it. It has to be a positive thing, not a negative thing."
The meaningful use measure that office campaign focused on was getting Kahn's patients to use eClinicalWorks' portal, with which they can schedule appointments, view normal lab results and other medical records. Patients can also send and receive secure messages to and from Kahn and the other doctor and clinical staffers.
The stage 2 requirement for this one is getting 20% of patients to use the portal at least once. Kahn surpassed that easily, getting 76% of her patients registered on the portal, and considerably more than 5% to use it. The big hurdle here was to get at least 5% of patients to send secure messages to her through the portal.
Now come the hard parts to attest to
The hardest challenge for Kahn was, she said, attesting to creating an electronic transition of care, or referral. This measure has three parts, not all of them difficult.
The first entails electronically creating and then sending a summary of care record for more than 50% of referrals. That communication could be by fax, so that was eminently doable, Kahn said.
The second part was markedly tougher. It requires sending more than 10% of referrals using a federally certified EHR or is part of a national health exchange. "That was a big deal, because you're not faxing anymore," Kahn said.
For this measure, she was allowed to send to other eClinicalWorks users using the company's proprietary peer-to-peer external portal. But because not a lot of those are near her, she used the public Direct protocol that Advocate, a local accountable care organization with which she is affiliated, uses to exchange the information with other providers.
Finally, Kahn attested to the hardest requirement -- establishing an electronic connection and exchanging test information with a randomly chosen third-party provider that was not on eClinicalWorks' system or Direct.
After many hours coordinating the exchange (Kahn estimates she spent more than 100 hours total attesting to stage 2), she succeeded. "That was really tricky," she said.
Worth the effort
In the end, finishing the attestation process was just a matter of wanting to do it. Kahn just laughed when asked whether it was worth the potential total of $43,720 in federal incentive payments over five years, assuming enough of her business was Medicare-driven.
"We were highly motivated to do it," Kahn said. "In the end did I make money or lose money? It was just part of an overall strategy of excellence in healthcare. That's the path I wanted to be on."
This article was written by: Shaun Sutner, News and Features writer for SearchHealthIT
Originally Posted On: http://searchhealthit.techtarget.com/feature/Doc-takes-time-out-for-meaningful-use-stage-2-requirements
About GroupOne Health Source
Founded in 1991, GroupOne Health Source is a full service medical billing, transcription, and consulting firm. Along with expertise in revenue cycle management, GroupOne has extensive experience with eClinicalWorks electronic health records software. Ranked top reseller of eClinicalWorks EHR since 2009, GroupOne's eClinicalWorks services focus on delivering a first class customer experience to every client while helping practices across the U.S. streamline processes, improve cash flow, and ultimately deliver better care to patients.
During the past twenty three years, GroupOne has provided services across the nation to medical practices ranging in size from 1 to over 400 providers. GroupOne's comprehensive expertise and background in physician medical billing, reimbursement management, transcription services and practice management coupled with our extensive experience with eClinicalWorks® will be an asset for your organization. For the 4th year in a row, GroupOne received a "Best in Class" ranking by Medical Group Management Association (MGMA) in its 4th Annual What Counts Survey.